Police & Fire
The Pelahatchie Police Department
The Pelahatchie Police Department and Municipal Court are located on Brooks Avenue in downtown Pelahatchie.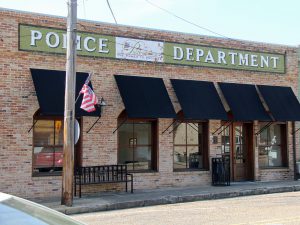 Police & EMERGENCY 9-1-1
For emergency police, medical, or fire services, dial 9-1-1. Emergency personnel will be dispatched immediately. Caller name, address and telephone number appears on a separate screen.
CRIME PREVENTION
The Pelahatchie Police Department is concerned with preventing crime and solving problems in partnership with all residents. Officers are available to discuss home / neighborhood / personal security as well as specific topics concerning residents.
Contact the Pelahatchie Police Department at 601-854-5223 for further information.
The Pelahatchie Police Department Team
Chief of Police Robert MaHaffey, Patrol Officer Greer, Patrol Officer Thomasson, Patrol Officer Koiner, Patrol Officer Scoggins, Reserve Patrol Officer Watkins, Reserve Patrol Officer Bean, Reserve Patrol Officer Hankins, Reserve Patrol Officer Bowers, Reserve Patrol Officer Harper, Communication Officer Parker, Communication Officer Peters.
Court Services: Court Clerk and Dispatcher Shannin Jones.
Pelahatchie Volunteer Fire Department
The Pelahatchie Volunteer Fire Department has served the Pelahatchie community for more than 60 years. They responds to fires and calls for emergency medical assistance from its fire station centrally located at 509 Second Street next to City Hall.
For emergencies call 9-1-1.
Pelahatchie Volunteer Fire Fighters
Fire Chief Karl Vanhorn, Assist Chief Kevin Hall, Fire Captain Debbie Scarberry, Fire Lieutenant Lynda Chrestman, Firefighter Josh Creason, Firefighter Robert Duran, Firefighter Barbara Elmore, Firefighter Robert Elmore Sr., Firefighter Rob Elmore, Firefighter Lykeenan Kelly, Firefighter Beverly Perkins, Fire Lieutenant Sean Peters, Firefighter Chris Rainer, Firefighter Ray Townsend.
Pelahatchie Fire Department Ladies Auxillary
Megan Hall and Heather Townsend