Police & Fire
The Pelahatchie Police Department
The Pelahatchie Police Department and Municipal Court are located on Brooks Avenue in downtown Pelahatchie.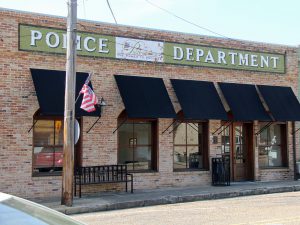 Police & EMERGENCY 9-1-1
For emergency police, medical, or fire services, dial 9-1-1. Emergency personnel will be dispatched immediately. Caller name, address and telephone number appears on a separate screen.
CRIME PREVENTION
The Pelahatchie Police Department is concerned with preventing crime and solving problems in partnership with all residents. Officers are available to discuss home / neighborhood / personal security as well as specific topics concerning residents.
Contact the Pelahatchie Police Department at 601-854-5223 for further information.
CRIME REPORTS (NON-EMERGENCY)
Non-Emergency crimes may be reported by requesting an officer to respond to your residence or by stopping in at the police department located at 108 Brooks Street.
The Pelahatchie Police Department Team
Chief of Police Timothy Fikes, Patrolman Jon Johanson, Patrolman William Pickle, Patrolman Kenny Miller,  Reserve Officer Karl Vanhorn, Reserve Officer Tyler Wiggins, Reserve Officer Willie Robinson, Court Clerk and Dispatcher Shannin Adams.
Pelahatchie Volunteer Fire Department
The Pelahatchie Volunteer Fire Department has served the Pelahatchie community for more than 60 years. They responds to fires and calls for emergency medical assistance from its fire station centrally located in the city on Hwy 80 next to City Hall.
For emergencies call 9-1-1.
Pelahatchie Volunteer Fire Fighters
Fire Chief Karl Vanhorn, Linda Crestman, Debra Scarberry, William Pickle, Justin Stevens, and others.