Parks to Enjoy in Pelahatchie
Muscadine Park, on Hwy 80 in downtown Pelahatchie across from the Volunteer Fire Department. It is a focal point for many community events. The premier event is the annual Muscadine Jubilee which is held on the second Saturday of September. In 2015, those attending the Muscadine Jubille number upwards of 7,000, which is a record for this annual event.
Muscadine Park has a playground that includes a small zip-line for children to enjoy.
A large pavilion anchors the park. It is center stage for the Muscadine Jubilee. It can be rented for special occasions. Near the back of the park is the Party Tank. The Party Tank is a renovated water tank that can also be rented for parties. For rental information call 601-854-5224.
~~~~~~~~~~~~~~~~~~~~~
Milltown Park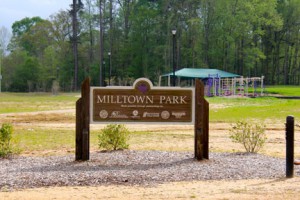 Milltown Park is a work in progress. It is located on the edge of town where Warren and Grimes Streets merge. More than 40 acres have been put aside for the park, that when finished will have baseball/softball/T-ball fields, soccer fields, walking trails, children's playgrounds, plenty of parking, restrooms, concessions, and all the amenities that will make an exceptional recreation complex in the heart of Pelahatchie.
And, Much More . . . Wrapped around Milltown Park is a paved walking trail. The walking path is a special place where walkers can exercise at their own pace, mosey along in reflection, or simply stroll about enjoying nature at its best.
~~~~~~~~~~~~~~~~~~~~~~~~~~~~~~
Visit Yogi on the lake 
Yogi Bear Jellystone Park Campground is located on Lake Road. Camping, swimming and fishing is available for family fun.