Town of Pelahatchie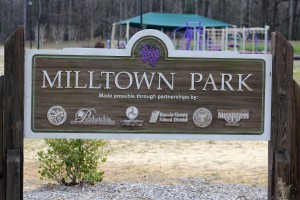 Baseball fields are available for public use, but reservations must be made at least 5 days prior to the event. All reservations must be approved by the Town of Pelahatchie
Approval of reservations for the ball fields at Milltown Park are based on the priorities listed below.
Pelahatchie High School

(the baseball field used by Pelahatchie High School is not available for public use). This field is off limits during high school baseball season. The reason for this is that the Rankin County School District contributed money towards building a field for Pelahatchie High School's use.
City League Play (One baseball field and two smaller T-ball fields may be used by public). City league is second in line for the fields.
City Events at Milltown Park – The Town of Pelahatchie may at some time may have activities at Milltown Park. When they do the City is third in line for the park.
Public use (One baseball field and two smaller T-ball fields may be used by public). The public is free to use the ball fields if they are not in use by one of the above groups.
Milltown Park Ballfields use policy and user guidelines:
APPLICATION PROCESS:
The first step in the permit application process is to complete a Milltown Park Application. It is important to understand that completing an application is not a guarantee that a reservation will be issued. Only when all items requested have been completed and approvals granted will a permit be issued. Please complete the application as thoroughly as possible. Information omitted from the applications delays the reservation process.
Applications must be made a minimum of 5 business days prior to the desired date of use.
Applications may be submitted at Pelahatchie City Hall.
All applicants must be 21 years or older.
Applicants must provide $1,000,000 liability insurance coverage. Permits will not be approved without providing a copy of the liability insurance.
After completion of your application, if the date and field are available and permit granted. You may pick your permit up at City Hall.
Permit Period: Single day use
The permit period reservations will be taken on a first come, first served basis and user priority will be considered.
There is no charge to use the park or the baseball facilities, but they must be reserved.