February Business of the Month
"Let me call you Sweetheart . . . " And what better way than with a gift from February's Business of the Month, Candy's Florist and Gifts, on Highway in Pelahatchie.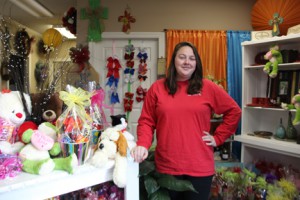 Candy's is a full service flower shop with lots of special gifts for that special person.
Candy's is owned by Candace Holmes, who worked for Robin Shivers for many years before purchasing the flower shop.
Candy's is a family owned and operated business. Candace and her husband Joey have three children Skiler 13, Payton 7, and Alissa 10. They all spend time at the shop along with Candace's mother Amy Merchant.
With Valentine's Day being their biggest event, Candy said it was important for customers to stop in and place their order for the Valentine this week.
Store Hours are:
Monday, Tuesday, Wednesday, and Friday – 8 a.m. – 4p.m.
Thursday, 8 a.m. – 12 p.m.
Candy the building of Candy's Flowers and Gifts has been in the Lord's hands all the way. And, her biggest joy is serving her community.
Candy's Flowers and Gifts is also a drop off point for NuWay Dry Cleaners and is a consignment store for East Rankin Academy uniforms.
Candy welcomes your phone call 601-854-5154. For emergencies her cell is 601-201-9446.